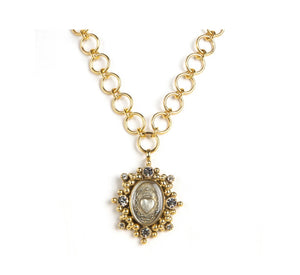 Virgin Saints & Angels (VSA) The Betty Necklace
The Betty Necklace OVAL SACRED HEART reminds us of our best friend Betty.  She is always fantastic, sometimes artsy, eccentric, and forever Betty!


Wear It...
gold plated over bronze
Medallion under resin
Adjustable chain is 12-18 inches
worn on it's own or layered
& Believe!
Care for with a clean dry cloth (no jewelry cleaner please).
Our secret?  We believe in Angels.
Handcrafted in San Miguel de Allende, Mexico.